 ENTERTAINMENT Units, 2 OAK TV Entertainment units. W 55" x D 17" X H 48". Will sell separately. In very good condition. Asking $200.00. and $150.00. Call 771- 7550. - Manuel's. After ...
Last Updated 3 days ago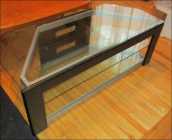 TV STAND
TV Stand, Tempered hardened glass TV stand in excellent condition. 4ft. long by 16 1/2" high. $20 Ph. 747-3984 I can also deliver it at no extra charge within Mt.Pearl, ...
Last Updated 5 days ago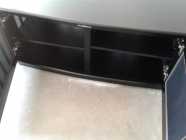 Entertainment unit
ENTERTAINMENT Unit/ Tv Stand, This unit server as a television stand and storage for receivers, modems, dvd players etc.
Last Updated 1 week ago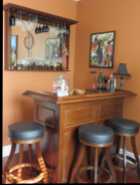 Bar unit with stools and mirror
BAR Unit, Bar unit with 3 bar stools 5'W x 27"D x 45"H
Last Updated 2 weeks ago Cedar Bar
CEDAR Bar, Portable Solid Cedar Bar Cost over $1000 new Excellent Condition
Last Updated 1 month ago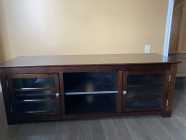 Entertainment Unit
TELEVISION Stand, Wood Television Stand (cherry finish) that can accommodate up to a 56" television. 5ft long, 19" wide and 21" high. Has 2 glass doors with 6 shelves in ...
Last Updated 1 month ago