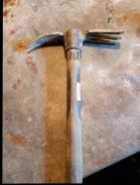 Gardening tools for sale
GARDENING Tools, Spade, Rack, Hand-pick, Selling a number of Yardworks gardening tools. All lightly used. Includes two spades, a small rack, and a larger hand-pick. Asking $40 obo for the works
Last Updated 2 days ago Firewood
FIREWOOD, seasoned birch, cherry and maple firewood. $100 for a ford ranger p/u load or $10 a wheelbarrow load.
Last Updated 3 days ago LIGHTHOUSE LAWN ORNAMENT
LIGHTHOUSE Lawn Ornament, 4 ft. tall with flashing light. Electrical parts are encased in water proof casing. Great gift for the outdoor enthusiast or gardener. A great addition to any front ...
Last Updated 2 weeks ago 6 FOOT LIGHTHOUSE
6 Foot Lighthouse, Lights up. Made of T&G Cedar Clapboard, so it is rot and bug resistant and made to last. Light flashes slowly to resemble a real lighthouse. Looks great on any lawn ...
Last Updated 2 weeks ago 5 FOOT WINDMILL LAWN ORNAMENT
5 Foot Windmill Lawn Ornament, with real plexi-glass windows. Measures 5'4" tall, 24" across at base with 36" blades. Made with 3/4 in. T&G Spruce Boards. Is lit with an LED electric light. Built ...
Last Updated 2 weeks ago