HEATER, Industrial heater, Ang cat#scp48, 240 vac. 4800 watt, 12" x 12" x 12" high
Last Updated 6 days ago

Allan Mackenzie Sales Ltd
SET Of Floor Sanding Equipment, Clarke 12 inch drum sander Clarke Edger Push Chair for edge sanding commercial vacuum 19 inch swing machine scrapers assort sand paper for both drum sander and edger ...
Last Updated 4 weeks ago

2 - One Ton Trolleys & 2 - Chain Lifts (Two Each)
TWO Trolleys And Chain Pulls Plus Straps, Only used Once (sold boat so not needed) - Two - one ton trolleys, two - one ton chain hoist and certified lifting straps. Purchased this past summer. Works perfectly. ...
Last Updated 1 month ago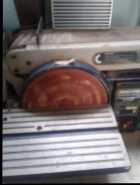 For sale. Power tools,shed clear out.
2 Sanders, Electric Plane, Belt and disc sander combined.used Belt sander. Used Electric plane.like new $30 each obo.
Last Updated 2 months ago

Kleen Flo Air Tool Oil -22 cans
AIR Tool Oil, Kleen Flo Air Tool Oil 22*500 ML. Curb side pickup available St Johns on Saturdays.
Last Updated 2 months ago

Industrial Compressor with Dryer
COMPRESSOR, CompAir L05 industrial compressor. Purchased in 2015 for $10,500, selling as is where is for $2,500. Was used very little. No issues with compressor. It is not required ...
Last Updated 4 months ago