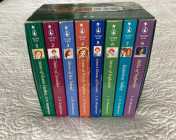 Anne of Green Gables books plus Poster
ANNE Of Green Gables, Anne of Green Gables - Great classic stories!! It's an 8 volume boxed set in good condition
Last Updated 2 days ago

DONNA Parker Books, Donna Parker is a teenager who has many exciting adventures with her family and friends! All books are in very good condition.
Last Updated 2 days ago

Christmas in Cross Stitch Book
CHRISTMAS In Cross Stitch Book, A large binder filled with Christmas cross stitch patterns, helpfully organized into categories like For Kids, For Him, For the Tree, For the Mantel, For the Kitchen, ...
Last Updated 2 days ago

Glorious Christmas Crafts
CHRISTMAS Craft Book, Glorious Christmas Crafts Hardcover Book by Anna Hobbs.150 Pages. Fun and easy to follow instructions. Book is in excellent condition.
Last Updated 2 days ago Newfoundland Books
NEWFOUNDLAND Books, A great selection of Newfoundland books written by different people. Books are in excellent condition. Must sell all together. Great Bargain.
Last Updated 3 days ago BOOKS, 200 hard cover mystery books, excellent condition, from a smoke free home
Last Updated 3 days ago POCKET Books, Assortment of pocket books, Western and Mystery, 50 cents to $1 each
Last Updated 3 days ago