SELMER Flute, with carrying case, used only in school band, hardly used, cost $750 new
Last Updated 1 week ago
4/4 Electric Violin, For sale a new full size 4/4 electric violin, c/w a bow, case, rosin, amp cord, tuner, battery, headphones and an extra set of strings.
Last Updated 2 weeks ago

quality used violin
WANTED, looking for a good violin at an affordable price up to $500 negotiable
Last Updated 4 weeks ago

Nova Mandlon
NOVA Mandolin With Case., I excellent condition. Need new Strings.
Last Updated 2 months ago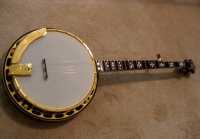 2011 Huber VRB-G Truetone Banjo
BANJO, 2011 Huber VRB-G Truetone banjo: HR30 tone ring, engineered rim, gold Keith D-tuners, stainless steel frets, Presto tailpiece, custom engraved, spikes 7,9,10,12 ...
Last Updated 2 months ago

EKO Mandolin
MANDOLIN, Vintage Italian made EKO mandolin and original case circa 1967. This instrument is in excellent condition and plays great. Everything works as it should.
Last Updated 2 months ago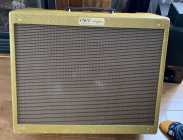 LOW POWERED TWEED TWIN TUBE AMP
LOW Powered Tweed Twin Tube Amp, Low Powered Twin Tweed Tube Amplifier. 5E8-A modified from 45 watt to 85 watt. 15" NEO SICA speaker. Each output tube has its own separate bias control. Cover ...
Last Updated 3 months ago

Gibson Florentine Tenor Banjo
BANJO, This is a 1928 Florentine original tenor in very good condition. Some finish minor wear otherwise original, including the ornate fingerboard with scenic Florence ...
Last Updated 3 months ago

Assorted Musical instruments at giveaway prices
GUITARS,PIANO, Saxophone Etc, I have a collection of vintage musical instruments for sell at giveaway prices. They are Collings 01T Traditional with Torrefied Top and Custom Case $2500 Roland ...
Last Updated 3 months ago