FOUND, one pair of mens leather gloves, found at Avery Place Mailboxes, call for details
Last Updated 1 day ago

Lost Purse
LOST, LOST PURSE: I had a work event at Bannerman Park today with a non-profit and we switched locations in the park & may have set my bag down/neglected to pick it back ...
Last Updated 2 months ago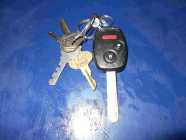 Found set of keys for a Honda
FOUND, Found across from Jungle Jim's near the Long Pond Dominion a set of car keys for a Honda May 31st. This is a smart key and so its replacement would be expensive! ...
Last Updated 2 months ago