 Gold Heart pendant
GOLD Heart Pendant, Gold heart pendant Heirloom 3.25 grams, 10 k
Last Updated 4 hours ago Lavender drop earrings(New)
LAVENDER Drop Earrings ,comes With Pouch, Lavender earrings, serious inquiries only...
Last Updated 5 days ago Blue Ocean Titanic
NECKLACES, Ocean blue Titanic Necklaces.16 inches long..Heart shaped..Beautiful to wear!Comes with Titanic blue Pouch..
Last Updated 5 days ago GEMSTONE Bracelets, Ladies, handmade, with beautiful gemstone colors $10 each
Last Updated 6 days ago BRACLET, 7.5" rope bracelet gold over gold but not genuine gold, call for details
Last Updated 6 days ago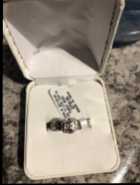 Jewelry
ENGAGEMENT Ring, 1/4 carat White gold Diamond twist ring. Size 7.25 - 7.5 Never worn Complete with tags still attached Paid $750 USD Willing to sell for $500 ono
Last Updated 2 weeks ago

Costume Jewelry
NECKLACES, Fashionable pieces made of various beads, shells, etc. In nice styles. Condition: Pre-owned, good, no tarnish. All clasps and chains are in tact.
Last Updated 2 weeks ago