 HANGING FILE FOLDERS LEGAL SIZE
HANGING File Folders, 250 hanging file folders legal size colours blue green yellow & purple - $100.00 - willing to sell in quantities of 25 for $10.00
Last Updated 1 week ago VARIETY OF STATIONERY ITEMS
STATIONERY Items, FOR SALE A VARIETY OF STATIONERY ITEMS GREAT FOR FLEA MARKET OR YARD SALE: 5 - METAL IN-OUT BASKETS - $5.00 EA 5 - PLASTIC IN-OUT BASKETS - $4.00 EA 4- ...
Last Updated 1 week ago

COMPUTER DESK
CORNER Computer Desk, Desk in excellent condition. Has roll-out keyboard tray and CD holders. $40 For a quicker response, please call 747-3984 as I am away from my computer a lot. ...
Last Updated 2 weeks ago

CORNER DESK & CHAIR
COMPUTER Desk And Chair, Purchased new & NEVER! Used, MINT! Condition from smoke free home. Price is FIRM! If this add is up its still available.
Last Updated 2 weeks ago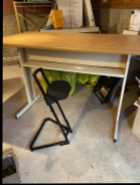 Stand/Sit Desk & Chair
ERGONOMIC Stand/sit Desk & Chair, Price reduced from $350. Now $250. OBO Stand/Sit Desk Unit with adjustable chair. Great for persons needing to stand to relieve back pain while working. Like ...
Last Updated 2 weeks ago