 MENS
MENS, American Eagle Outfitters winter coat size large, in excellent condition
Last Updated 2 days ago Size small men's coat ,sweater, and fleece jacket
SWEATER,COAT, Fleece Jacket Size Small, ALL ITEMS NEW WITH TAGS ATTACHED MENS SIZE SMALL WINTER COAT WAS $69 MENS SIZE SMALL SWEATER WAS $ 40 MENS SIZE SMALL FLEECE JACKET WAS $ 25 GREAT GIFT IDEA ...
Last Updated 3 days ago INSULATED Winter suit
INSULATED Winter Suit, mens size 2X, black 2 piece with reflectors, never worn, paid $250 plus tax
Last Updated 7 days ago RAIN Coat
RAIN Coat, mens or ladies, heavy duty, long, yellow in color, size medium, never worn
Last Updated 7 days ago JACKET
JACKET, Mustang ice rider floater jacket, black, size medium, call for details
Last Updated 1 week ago Man's Winter Parka
WINTER parka, Man's parka is gray, size large, down filled with a detachable hood. It has both a zipper and button closure with a wind break at the sleeves and hip. There is ...
Last Updated 1 week ago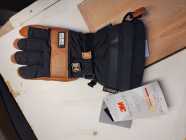 shirts
SHIRTS, All shirts are non iron and have button own collars. All were bought in may...tried on but never worn and are in like new condition. $25 each or all 4 for $80. email; ...
Last Updated 1 week ago Hockey shirts
T-SHIRTS, Coor's hockey t-shirts. Assorted teams. $10 each. 727-7401
Last Updated 1 week ago Carhartt Men's Jacket
MEN'S Winter Jacket, Carhartt Extremes Arctic quilt lined jacket, water repellent nylon shell, attached quilt-lined hood with adjustable draw-cord closure, two inside pockets, two lower-front ...
Last Updated 1 week ago