ITEMS, two strollers $50 each, infant bathtub $10, Infant Deluxe baby bather $20, one exersaucer $80, Musical Mirror Activity Jim 0-12 months $30, infant swing $50, Eco ...
Last Updated 2 days ago

Fisher Price Baby Swing
BABY Swing, Fisher Price baby swing, has variable speeds, and several settings for sounds and music, battery operated. In excellent condition. Asking $50 obo.
Last Updated 5 days ago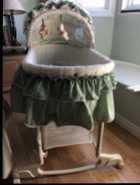 Bassinet
BASSINET, Bassinet in excellent condition. Winnie the Pooh characters attached. On wheels. $50 obo.
Last Updated 5 days ago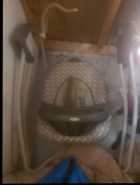 Baby swing
BABY Swinh, Daughter has out grown it. Plays music. Missing top of mobile why its up for 40.
Last Updated 2 months ago