 1989 GMC Lag Box 2wd, chassis is in excellent condition, motor has approx 50K, 5.7 Vortex V8, scrapping vehicle, box is reasonably good, all running gear good, selling parts separately, ...
Last Updated 6 days ago TRUCK EXHAUST PARTS
PARTS Truck Exhaust Parts, to fit large trucks such as Single Axle Dump Trucks and larger. A large variety of some used, but mostly new, muffler parts and attachments. Too many to list individually ...
Last Updated 7 days ago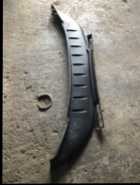 Dodge Ram parts
PARTS Dodge Ram, Tow hooks n bumper skirt and insert from 2010 Ram 4x4,
Last Updated 7 days ago Exhaust System
PARTS Pickup, Factory Exhaust for2014 - 2019 Chev or GMC pickup 5.3 litre engine. Single cab 6.5 foot box
Last Updated 1 week ago WANTED, Parts looking to buy drivers side window to fit 2006 Buick Rendezvous, call with details
Last Updated 1 week ago