Newfoundland's EASIEST Auto Loans
Newfoundland Auto Loans
261 Kenmout Road
St. John's
A1B 3P9
View On Map
Description:
All Credit Approved! Stop wasting your time with other dealers, banks, or financial institutions. Protect your Credit Score! Let us get you in a car FAST! Come to see us at 261 Kenmount Road in St. John's or fill out our secure online application and we'll start working on your approval right away!




We have a great selection of Cars, Trucks, Vans and SUVs but we can put you in any vehicle that you qualify for, even if it's not currently on our lot. We don't believe in limiting you to a few vehicles, we believe in bringing you UNLIMITED selection. At Atlantic Auto Sales we're all about giving you the service, credit and vehicle you deserve!

Want a car like one of these? Just click here, fill out our SECURE ONLINE APPLICATION and we'll put you in the driver's seat lickety-split! And it doesn't have to be one of these, you can let us know what you want!




Why are we so good? Why do we often get approvals the very same day? Because we take your application seriously and we are on YOUR side, not the Lenders side!



Call 709-754-9490 or Toll-Free 1-888-754-9490, email us or visit us at:

Atlantic Auto Sales
261 Kenmount Road, St. John's
A1B 3P9
www.atlanticautosales.com/apply

We're located right next to the Gushue Highway ramp and Tim Horton's. If you need help finding us, below is a map. You can also click this link to bring up an interactive map on your phone or computer: live map to Atlantic Auto Sales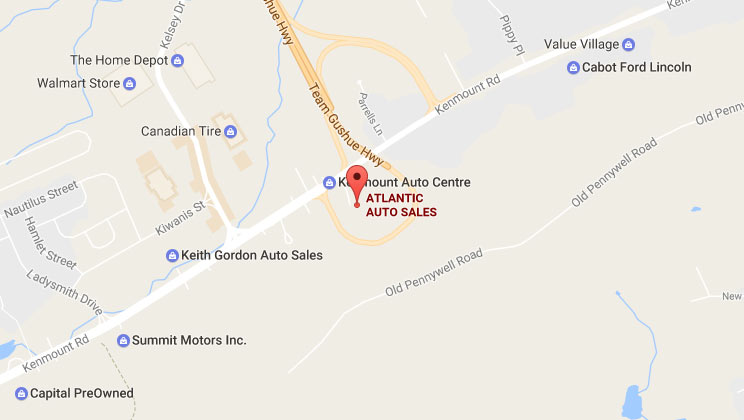 Views: 2,424
Newfoundland Auto Loans
261 Kenmout Road
St. John's
A1B 3P9
View On Map
Price: No Price
Location: St. John's (Avalon)
Phone:
Alternate Phone:
Visit Website