HJC IS-MAX 2 / Electric Shield 5XL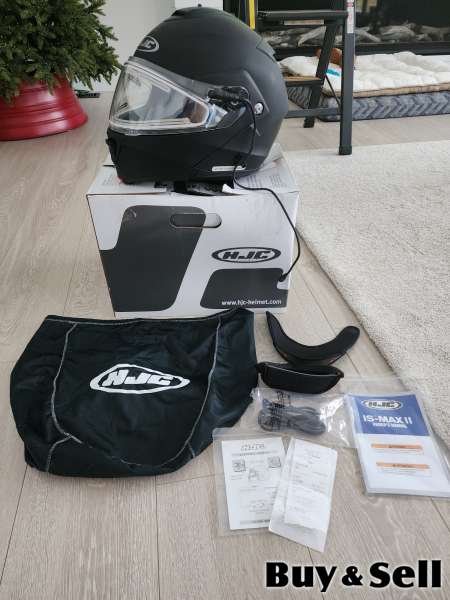 HELMET, Brand New 5XL
HJC IS-MAX 2 Modular Helmet has Advanced Polycarbonate Composite Shell with Adjustable Polycarbonate Chinbar: Lightweight, superior fit and comfort using advanced CAD technology. Single-Button One Handed Chin Bar/Face Shield Release. Frameless Dual Lens Shield features increased field of vision, integrated exhaust ventilation system to help remove hot air from building up and fogging the shield interior. Electric shield comes with powercord (for use with either a 12' 13.6V DC or AC current from the engine). One-touch Integrated SunShield (HJ-V5): Smoke-tinted 3-stage adjustable SunShield with locking mechanism deploys quickly and easily. Advanced Channeling Ventilation System: Full front to back airflow flushes heat and humidity up and out. SuperCool?
Interior: Moisture-wicking anti-bacterial fabric. Removable and washable liner and cheek pads. Comes with Breathguard and Chin Curtain installed (attaches to the inside of the Chin Bar). All sizes of cheek pads are interchangable in all helmet sizes.
Views: 298
Price: $375.00
Location: Gander (Central)
Phone: